Wat Indrawihan, Bangkok
---


Wat Indrawihan is a Thai Buddhist temple in the Phra Nakhon district of Bangkok. Also written as Wat Intharawihan, Wat Intharavihan or Wat Indraviharn, it is a very old temple that dates back to the early Ayutthaya period, when it was originally known as Wat Rai Phrik. However, none of the buildings from that period survived to this day.

What makes Wat Indrawihan a tourist attraction today is its 32-meter (105-foot) standing Buddha statue, called the Luang Pho or Phrasiariyametri. The statue was commissioned by King Mongkut (Rama IV) in the mid 19th century, to enshrine a Buddha relic received from Sri Lanka.

The Buddha statue stands facing east. So if you wish to see it with the sun in front of it, you should go during the morning part of the day. Otherwise you will, like me, get the statue with the sun behind it.
Location Map of Wat Indrawihan
Click here to view the Google Map of Wat Indrawihan.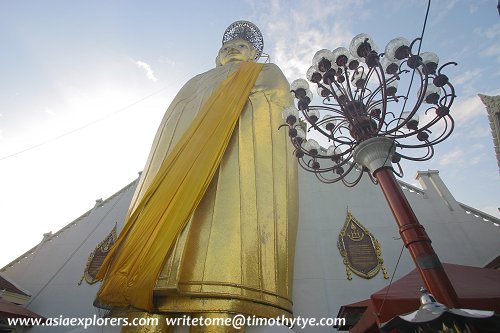 Buddha statue of Wat Indrawihan (27 December 2006)
© Timothy Tye using this photo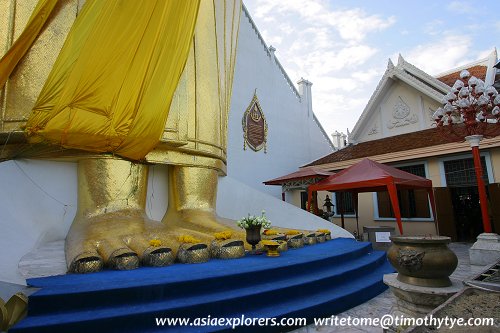 Base of the giant Buddha of Wat Indrawihan (27 December 2006)
© Timothy Tye using this photo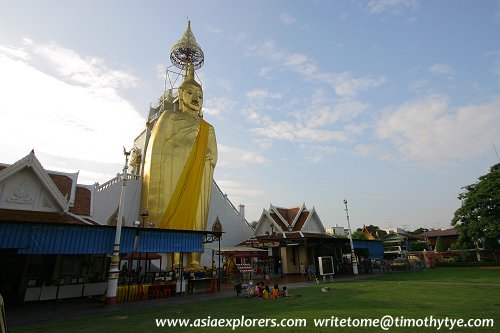 View of the giant Buddha in the compound of Wat Indrawihan (27 December 2006)
© Timothy Tye using this photo