National Library is the main library of Bangkok. It is located along Samsen Road, at the corner with Si Ayutthaya Road, in the Dusit district of Bangkok.

The National Library was originally known as Hor Phra Samut Wachirayan Samrap Phranakhon or City Library, in 1905. It was the result of the merger of three libraries under the orders of King Rama V. They were the Hor Phra Monthian Tham, Hor Phuttha Satsana Sangkhana and the Hor Phra Samut Wachirayan. The library was then located at the Sala Sahathai Samakhom, in the Grand Palace.

In 1916, King Rama VI ordered the relocation of the library to a building beside Wat Mahathat. In 1926, King Rama VII donated the private books of King Rama VI to the library, and renamed the library Hor Phra Samut Vajiravudh. He ordered that the library be administered under the Royal Institute. When the Fine Arts Department was established in 1933, the Royal Institute became a component of it, and the library was became the National Library.

The present National Library building was opened to the public on 5 May, 1966.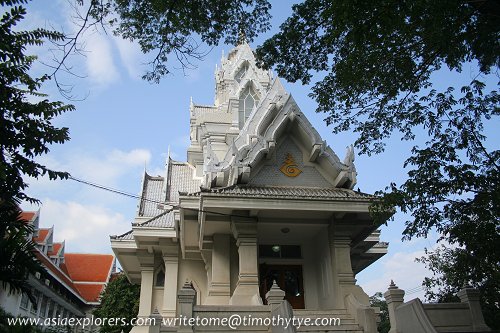 National Library, Bangkok (27 October 2006)
© Timothy Tye using this photo
How to reach the National Library
As there are no Skytrains or Metro to this part of Bangkok, you should take a taxi.
Location Map of the National Library
Click here to view the Google Map of the National Library.